【OSAKA MARATHON 2019】交通規制のお知らせ/Traffic regulation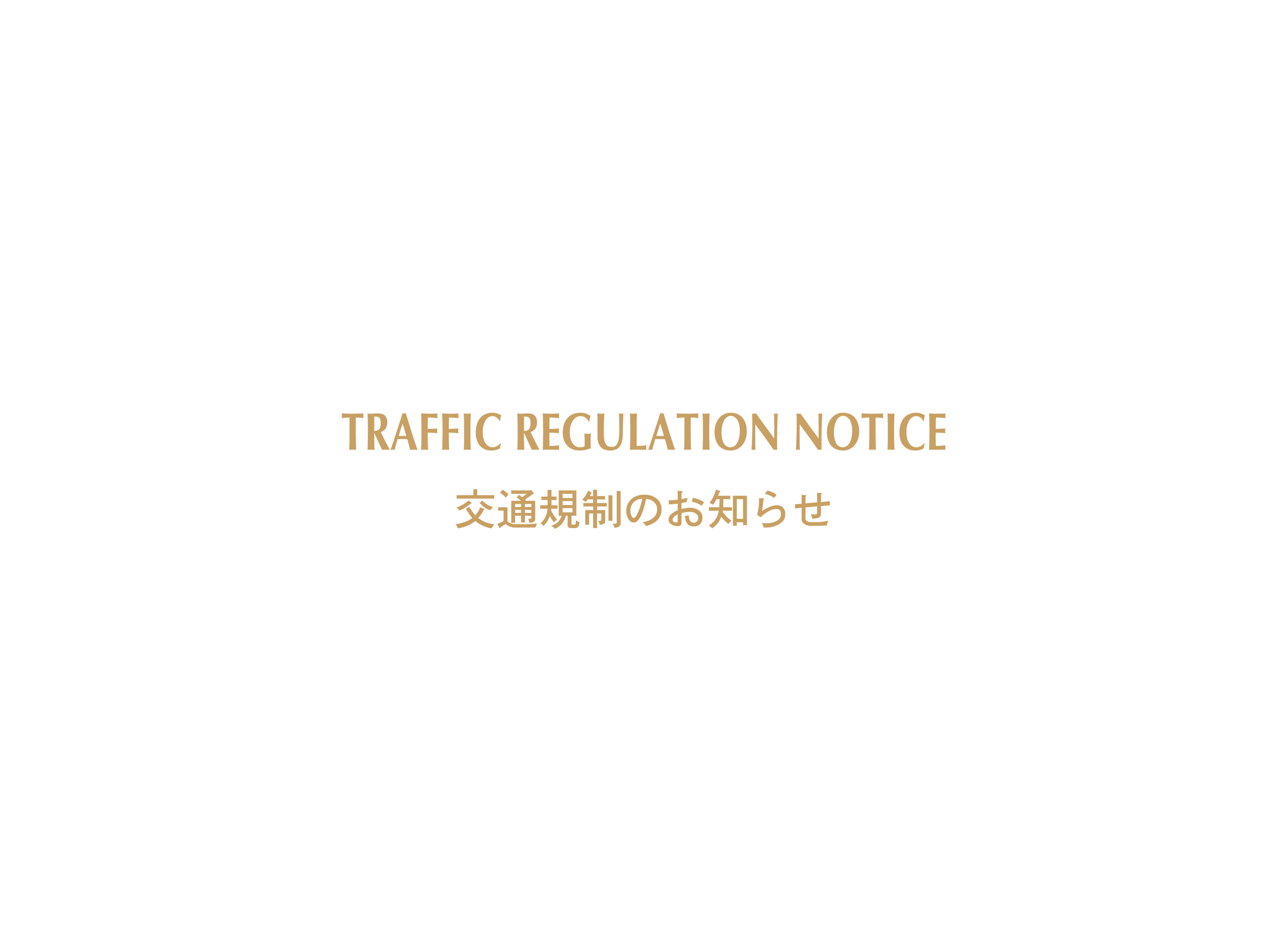 ※English follows Japanese.
 
2019年12月1日に「OSAKA MARATHON 2019」が開催されます。
 
それに伴い、大阪市内の主要道路が交通規制となりますので12月1日に当館をご利用の方は事前に公式サイト上にて規制情報をご確認のうえ、ご来館下さいますよう、お願い申し上げます。交通規制の時間中は自動車の通行のみならず、歩行者ならびに自転車の横断も禁止されますのでご注意下さい。
 
午前中はホテル前の土佐堀通を含めほとんどの周辺道路が規制対象となります。下記案内を確認のうえご来館下さいませ。なお、記載の時間はあくまで公式発表に基づく規制時間になりますので、多少前後する可能性がある旨予めご了承下さい。
 
☆当館周辺の規制情報☆
下記道路はホテル周辺の主要道路となります。12月1日にチェックアウトのご予定のお客様は必ずご確認のうえ、旅程をご検討下さい。
 
・8:40~10:55・・・ホテル周辺道路(土佐堀通「淀屋橋↔天満橋間」/堺筋「北浜↔なにわ橋間」)
・8:40~11:15・・・御堂筋「堂島↔千日前」
 
>>徒歩・レンタルサイクルでのご移動
8:40~10:55の交通規制中、並びにその前後の時間は歩道に沢山のサポーターが詰めかけると予想されます。ご移動の際は、"淀屋橋駅"と"北浜駅"をつなぐ地下通路をご利用下さい。地下通路からは22番出口がホテルに一番近いお出口となります。
 
>>マイカー並びにタクシーでのご移動
8:40~10:55の交通規制中、並びにその前後の時間はホテル近辺へのお車での乗り入れができません。早朝もしくは午後の移動をご検討下さい。また、ホテル近隣駐車場をご利用予定のお客様は、規制中の入出庫ができませんのでご注意下さい。
 
>>大阪城公園へのアクセス
マラソンのゴール地点となるため、駐車場は終日休業となります。7:30~17:00までの間、タクシーでの乗り入れはできません。天守閣並びに近隣店舗は営業しております。「森ノ宮駅方面」からは終日徒歩で入園可能です。その他、大阪市内の観光地へ向かわれる際は事前に交通情報をご確認下さいませ。
 
<交通規制マップ>
日本語:https://www.osaka-marathon.com/2019/info/traffic/pdf/traffic.pdf
English:https://www.osaka-marathon.com/2019/info/traffic/pdf/traffic_en.pdf
 
交通規制はございますが、大阪マラソンは例年盛り上がりを見せる一大イベントです。プロからアマチュアまで、中にはコスプレをしているランナーなど様々な方が大阪の街を走り抜けます。ホテルの目の前がコースになりますので、是非この機会に沿道から声援を送ってみてはいかがでしょうか。
 
皆様のご来館をスタッフ一同、心よりお待ちしております。
 
THE BOLY OSAKA
 
---
"
OSAKA MARATHON 2019
" will be held on December 1st, 2019.  
As a result, traffic on the major roads in Osaka city will be restricted. If you use our hotel on December 1, please check the official information on the official website(
https://www.osaka-marathon.com/index.html
) in advance and come to our hotel. Please kindly be noted that not only traffic of cars, but also crossing of pedestrians and bicycles are prohibited during traffic regulation hours.  
In the morning, most surrounding roads, including Tosabori-dori in front of the hotel, are subject to regulation. Please kindly be noted that listed times are based on official announcements, and may slightly vary.  
☆ Regulation information around the hotel ☆
The following streets are the main streets around the hotel, that will be restricted. If you plan to check out on December 1st, please check and consider your itinerary.  
・ 8: 40 ~ 10: 55 ・ ・ ・ Street around the hotel (Tosabori-dori "between Yodoyabashi and Tenmabashi" / Sakaisuji "between Kitahama and Naniwabashi")
・ 8: 40 ~ 11: 15 … Osaka's main street(Midosuji "between Dojima and sennichimae")  
>>Transfer on foot / rental cycle
During the traffic regulation of 8: 40 ~ 10: 55, and before and after that, it is expected that many supporters will be packed on the sidewalk. When traveling, please use the underground passage connecting "Yodoyabashi Station" and "Kitahama Station". From the underground passage, "exit 22" is the closest exit to the hotel.  
>> Move by car or taxi
During the traffic regulation of 8: 40 ~ 10: 55, and before and after that time, you cannot enter the car near the hotel. Please consider traveling in the early morning or afternoon. In addition, please also note that customers who plan to use the parking lot near the hotel are not allowed to enter or leave the facility during restricted time.  
>> Access to Osaka Castle Park
The parking lot is closed all day to serve as the goal for this marathon. From 7:30 to 17:00, taxis are not accepted. The castle tower and neighboring stores are open. You can enter the park on foot all day from "Morinomiya Station". In addition, please check the traffic information before going to sightseeing spots in Osaka city.  
English:
https://www.osaka-marathon.com/2019/info/traffic/pdf/traffic_en.pdf
Although there are traffic restrictions, the "Osaka Marathon" is a big event that shows excitement every year. Various people, from professionals to amateurs, runners who cosplay and run through the streets of Osaka. The course is right in front of our hotel, so why don't you try cheering along the road at this opportunity?  
We look forward to your visit.
Thank you.  
THE BOLY OSAKA